Hot Pizzas Lead To Terrorist Hideout!
Posted on Saturday, September 14 @ 18:36:38 BST by just_dave
A REPUTED ally of Osama bin Laden was betrayed after united states spy planes tracked a pizza to his jungle hideout.
According to previously secret filipino military files shown to wall street journal, Abu Sabaya - a leading member of the Abu Sayyaf rebel network linked to bin laden - was initially located by signals from his sattelite telephone.
But the joint US-Filipino intelligence team needed to konw if he was still holding his latest hostages, two american missionaries, Martin and Gracia Burnham, and a local woman Deborah yap.
Their solution was a mixture of down to earth human intelligence and american technology.
Philippines marines intelligence officers had penetrated the courier network which kept Sabaya supplied with pizzas, soft drinks and burgers from a fast food chain.
An american unmanned aerial drone followed the thermal image of a delivery of hot pizzas as they were carried by boat from the harbour of zamboanga to the small coastal village of sibuco near subaya's base.
Colonel Juancho Sabban who led the search said "we had to make sure the pizza was hot. otherwise we would have lost the trail."
The pizza trail could only lead the troops so far - it's heat images were invisible in the thick jungle. But it proved a decisive breakthrough , because it narrowed the area to be searched.
Filopino troops went into the jungle and found the rebels, but mr Burnham and Miss Yap were shot dead by their captors in the ensuing battle. Mrs Burnham was wounded in the leg.
Sabaya escaped but was killed during a gunfight at sea two weeks later.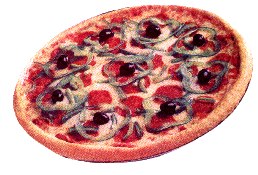 Taken from the daily telegraph Saturday, September 14, 2002 - article written by David Rennie in Washington.